2023 Rawlings Mantra Plus+ Women's Fastpitch Softball Bat (-11oz) RFP3MP11

A mantra is meant to sharpen your focus and elevate your mindset. That's the approach we took when designing the 2023 Rawlings Mantra+ fastpitch softball bat. Add some power, pop, and personality to your game now! The Mantra+ boasts brand new features to improve both comfort and power at the plate.

For starters, the Mantra+ features a refined version of the Mantra's three-step barrel design. We engineered the inner barrel with hyper-precision molding for more consistent performance on every swing. In addition, the outer barrel layers feature an impact-toughened resin that creates lower compression and optimized wall thickness evenly throughout the barrel. As a result, you'll get more power, more consistency, and maintain a smooth feel with every swing.

To improve your power and feel on mishits, the Mantra+ even features a new PowerSync connection joint that further reduces vibration while transferring all that energy from your swing directly into the barrel. And you can let this bat rip in practice, too — our advanced molding technique prevents telescoping and improves durability. Power hitters like Jocelyn Alo are loving the 2023 Rawlings Mantra+ fastpitch bat. Join them this season and own the plate in every at-bat now!


Specs:


Full Composite Design
Triple-Wall Barrel
Reconstructed Collar
Special Molded Assembly
-11oz length to weight ratio
2 1/4" Barrel Diameter
Certified for: USSSA, NSA, ISA, ISF, USA (ASA)
1 Year Manufacturer Warranty
RFP3MP11
Bat Size Guide-Help Selecting Baseball and Fastpitch Bat Size

The bat size that best fits you will be one that is comfortable, easy to swing and allows you to produce the greatest bat speed and power.


To obtain your optimum bat select a bat that is not too long/heavy or too short/light.

A bat too short won't provide maximum power or barrel length, while a bat too long will be too difficult to handle and will also slow bat speed reducing power.

First begin with selecting a length. If possible use the previous bat you swung to help establish a length. For example if you used a 30 in bat and now feel that you are ready to move on to a larger bat a 31 in could be the next step.


You can also use the chart below for the average bat lengths based on your height, weight and age.

The chart below is just a guide as each player's strength and bat speed differ.

While the chart below was primarily designed for baseball, we have found it works fairly well for fastpitch bat sizing too. For fastpitch, however, refer to only the player height and disregard the player weight. Also, see notes at the bottom for additional notes on fastpitch bat sizing.

Need help selecting the proper bat size? Give us a call @ 888-854-2287.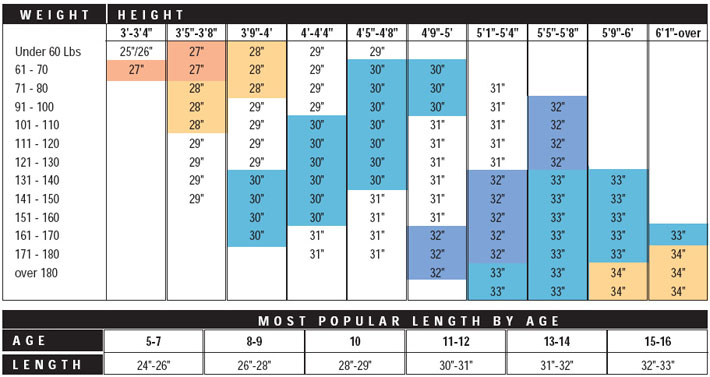 Selecting The Appropriate Bat Weight

The bat weight is equally as important as the length in selecting the optimum bat size.

Bat weight differs greatly depending on the age range and is usually referred to as the "drop" when associated with the length and weight.

The drop is the difference between the length of the bat and the weight of the bat. For example if a bat is 30 in. long and weighs 20 oz. then the drop is 10. The larger the drop, the lighter the bat.


The average bat drop can best be broken down by age range.
Youth Bats (21/4 Inch barrel diameter)

Average - drop 12

Power Hitter - drop 10
Senior League "Big Barrel" Bats (25/8 to 23/4 Inch barrel Diameter)

For ages 12 and under, drop 10 is the average

Over age 12 range from -10oz to -5oz depending on the players strength and bat speed.

*Check with your local league or organization to find out if there are any restrictions on barrel diameter or bat weight.

High School/College Bats

All high school or college bats are drop 3

Freshmen/Sophmore High School players: 31 and 32 ich are the most popular

Junior/Senior in High School players: 32 and 33 inch are the most popular

College Players: 33 is the most popular size.
Fastpitch Softball Bats

Age 13 and under, average drop - 11oz or 12oz.

Age 14 to 16, drop 10

Age 16 and up, Drop 8oz to 10oz. Drop 10 is still the most popular drop, but some power hitters prefer a drop 9.
*Bat Weight is also a preference. There are some over 14 players that prefer and use lighter bats. This can vary depending on their strength or type of hitter they are (power vs slap hitter).